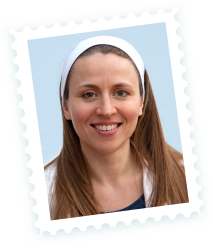 Hello & Welcome
I am a professional Yoga Teacher & Holistic Therapist working with adult men & women in the regions of Hertfordshire, Essex & London in the UK. I teach Yoga as general group classes, workshops, 1-to-1, & also the evidence based therapeutic programme of 'Yoga for Healthy Lower Backs'. I also provide massage, Holistic Aromatherapy & Mind Detox sessions.
My services are available at various venues & may even be taken to your workplace. Please do explore my website & simply get in touch if you would like to know more.
These services can help you to re-connect with (& maintain!) a general sense of wellbeing - mind, body & self. You may witness tension & stress melt away, & an improved awareness of the space beyond a busy mind - a place of clarity.
It is a pleasure to pass on such techniques & therapy that I have found personally most helpful. I look forward to working with you.
Wishing you peace, happiness
& health. 
Claire Wainwright
Public Group Sessions
Please Note: Claire is currently taking a sabbatical from Clear Space, but expects to return with a similar schedule, so subscribe to updates above!
Weekly General Yoga Classes
Tuesdays
20.15 - 21.45Sawbridgeworth
Herts CM21
Yoga for Healthy Backs Course
Saturdays
10.15 - 11.45Bishop's Stortford
Herts CM21
Monthly Relax & Restore Yoga
Wednesdays
20.00 - 21.45Bishop's Stortford
Herts CM21
Monthly Mid-week Meditation
Wednesdays
20.00 - 21.30Bishop's Stortford
Herts CM23
Update
After 3 years of full-time study, I successfully graduated from Goldsmiths University of London in July 2017, with a degree accredited by the British Psychological Society (BSc (Hons) Psychology, 2:1). With that, I've been taking a sabbatical from offering my 'Clear Space' services since February 2016. This continues with the transition, and further work to offer talking therapies, but I expect to return. So do subscribe to my e-mail news to receive any future schedule (click the 'Updates' icon above right). For now, you can get an idea of what I've been offering with my previous schedule (in the 'Sessions' boxes to the right). Thanks for your interest!
See below for general information on all 'Clear Space' services, plus Terms & Privacy Policy. Gift Vouchers may also be available for purchase and mailing.
Private Individual Sessions
Massage / Aromatherapy /
Yoga 1-to-1 / Mind Detox
Wednesdays
During 19.45 - 21.45Dunmow
Essex CM6
Saturdays
During 13.45 - 16.45Dunmow
Essex CM6
Home Visits
Exceptional circumstances (subject to availability & conditions).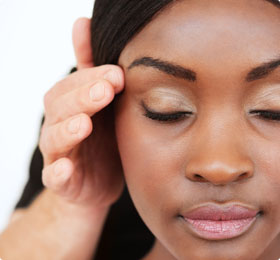 indian champissage
Head massage has been practised in India for over a thousand years. The Champissage™ method - created by Narendra Mehta - includes massage of other regions vulnerable to tension & related muscular aches – i.e. upper back, shoulders, upper arms, neck, scalp & face. I trained with Narendra at his London centre in 2001 (LCIC diploma recognised by the FHT & CNHC).
The intention of massage therapy is to increase delivery of blood & oxygen to the soft tissues, warm them, & help the body to relax. Benefits of Indian Head Massage include a general sense of well-being.
Treatment takes place sitting clothed in an upright low backed chair. It is oil-free unless you request (when booking) a hair conditioning oil for the end. The massage usually lasts 30-45 minutes, but can be effectively shortened to 15-20 minutes for the workplace. Some techniques can be incorporated into my other massage therapies.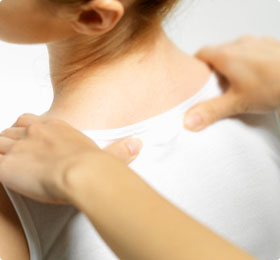 on-site massage
This 'Seated Acupressure' treatment from The Academy of On-Site Massage (founded in 1989), is based on the principles of Anma, a traditional Japanese massage. I trained with AOSM in 2001 (a diploma recognised by the FHT & CNHC).
Massage may be found to reduce stress, relieve everyday aches, & aid general wellness. It can also support other therapies in the rehabilitation of muscular injuries. On-Site Massage is specifically designed to take this potential (& the increased productivity it can promote!) into the workplace in an adaptive way.
So this massage type is: calming yet stimulating; effective in 15-30 minute appointments; oil-free so clients remain clothed; situated on a compact, upright couch, enabling massage of the regions most affected by repetitive work - e.g. back, shoulders, arms, hands, neck & scalp. Private clients can book a longer treatment, or have certain techniques as part of my other massage therapies.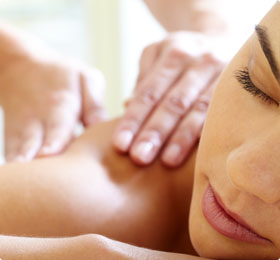 aromatherapy
This Complementary Therapy uses essential oils extracted from plants thought to possess distinctive therapeutic properties. Used in a variety of settings - including hospitals - for a variety of conditions, it may be particularly helpful to reduce everyday stress.
As is typical, I ask questions about medical history, general health, wellbeing & lifestyle, to choose & blend the most appropriate & safe oils for you (usually organically produced). I trained at the London School of Aromatherapy in 1998 (a diploma recognised by the IFA, FHT & CNHC), where I learnt various methods of application, including home use, Facials & Lymphatic Drainage Massage (vigorous treatment i.e. not MLD), as well as general massage treatments.
It is usual to give a 'Full Body' massage (of just over an hour), for maximum oil absorption, which promotes overall wellbeing. Based on the Esalen style, rooted in Swedish Massage but designed to calm the psychological self as well as relaxing the body. Get in touch to find out how Aromatherapy may personally help you.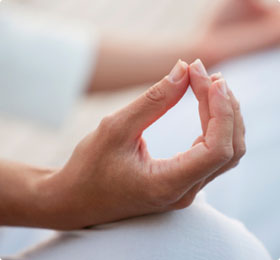 yoga
A holistic discipline originating in ancient India, Yoga means 'union' & aims to balance mind-body-spirit, optimising overall health & wellbeing. It is known for improving flexibility, but also increases strength, & is more than exercise, with posture work, breath/energy expansion, relaxation, concentration/Meditation, & non-religious philosophies to assist happier, healthier life choices. All develop inner awareness/focus for the ultimate goal, to re-connect with (& maintain!) the harmony of our true Self, beyond the busy mind.
I started my Yoga path in my teens & went on to teacher training with the British Wheel of Yoga, the National Governing Body (registering me on REP's). I've since trained with 'The Yoga for Healthy Lower Backs Institute', so I'm qualified to deliver specialist YHLB courses (which I cap at 10 members). See www.yogaforbacks.co.uk for more details. I also offer general classes (capped at 12 or 15), 1-to-1's (for personal practice) & workshops/other specialist sessions e.g. restorative Yoga, Meditation. All sessions are suitable for beginners or experienced students.
My style is generally Hatha Yoga (BWY definition: "emphasis on postures with breathing & relaxation for all ages & ability. Classes tend to involve slow-paced stretching with simple breathing exercises & meditation"). However, as I'm influenced by various teachers, the best way to know it is to experience it, & the short plus long term benefits to you. Yoga may particularly clear tension & stress effects.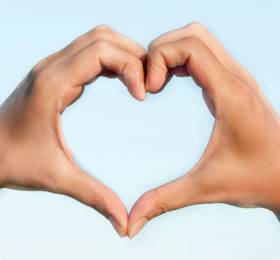 mind detox
The Mind Detox Method (MDM), created by Sandy Newbigging, is a powerful system of questioning aiming to discover & resolve the root cause reasons of a problem. It may help with persistent negative emotion, limiting belief, uncontrollable habit, & even physical conditions, as we know there's a mind-body link, e.g. stress may cause/make it worse without necessarily being conscious of that.
MDM works on the principle that certain past conclusions, often hidden, may still influence unconsciously. Although made to be helpful, some prove flawed/outdated. Each one hour session is designed to help you change (or update!) your mind at a deeper level, & to change your relationship with the mind, so less negatively affected.
After being so impressed with the positive changes I experience, I became a Mind Detox Method Practitioner trained by Sandy C. Newbigging (a course accredited by the FHT).